The first of those meetings was a Recode Knoxville Stakeholder Advisory Committee meeting, held in the City County Building, where Mayor Rogero, City Council and the Stakeholder Committee reviewed the proposed changes together. Thirty-five community members joined for the presentation (included below) and a question and answer session.
Later in the week, a presentation was given to the Knoxville Area Association of Realtors and the Chamber of Commerce, and a community meeting was held (view the recording below).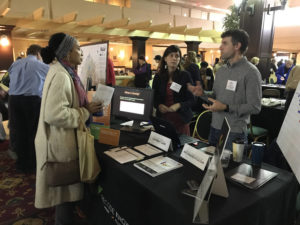 Staff also participated in the 2018 City of Knoxville Neighborhood Conference, where there was an information booth and a workshop that attendees could sit in on to learn more. These opportunities allowed nearly 175 community members to review a summary of the draft, ask questions and provide comments.
Documents
CTV Broadcast
The initial draft is more transparent, predictable and consistent than the current ordinance. This has been achieved through several updates to the document's organization, processes, and procedures. Examples of this include:
Better organization through illustrations, matrices, definitions, standardized rules of measurement, zoning uses tables, and more;
Alignment and integration of the newly adopted parking regulations and form based code;
Adoption of a more generic use approach;
Use of standards to regulate impacts;
Uses tailored to districts;
Inclusion of temporary uses and permits;
Reorganization of districts;
Inclusion of permitted encroachments table;
Inclusion of landscape requirements chapter;
Replacement of use on review with special uses;
Creation of a new planned development process; and
Modification of all nonconforming situations.
MPC and Camiros are encouraging community members to review the first draft and submit comments. Several groups and organizations are hosting meetings throughout the month of April, and all are open to the public. A series of open houses, hosted by MPC and led by the Camiros consultant team, is scheduled for the week of May 14. MPC and City staff encourage those interested in the project to attend these meetings to learn more and to submit comments by May 21. The feedback received will help shape the second draft, which is expected this summer.
Recent Comments
May 22, 2018
Tree Mitigation
I would like to suggest Knoxville consider developing and implementing some form of mitigation for the destruction of trees by developers, perhaps along the lines of how TDEC operates its stream and wetlands mitigation program. In the case of tree protection, the ordinance could specify that for each tree destroyed over a particular dbh, X number of trees of 2" caliper have to be planted; or, a value of the destroyed trees could be established and the developer pay the equivalent value into a mitigation bank, with the city using the funds for planting or landscaping projects.

Harvey Broome Group
Sierra Club
May 22, 2018
Olpna Comments
I'm forwarding the comments we've come up with for submission from the Oakwood Lincoln Park Neighborhoods Association.
(View Comments)
We would also like to suggest that the comment posting be open for another few weeks as many residents are just now hearing about Recode and are still trying to assimilate all the information. Thank you.
May 22, 2018
Feedback From A Discussion At The Food Policy Council
The Knoxville-Knox County Food Policy Council has NOT voted on a recommendation at this time and date. They individually have provided some general feedback to some City and County in advance of the deadline which I am summarizing below:

They are supportive and in favor of changes regarding food, farmers markets, and urban agriculture as included. There were concerns about ambiguity of farm stands/seasonal produce stands and ensuring the language is clear and consistent in references. They also felt like it may be beneficial to have a presentation from the consultant on specific food-related items in the next phase.
May 22, 2018
Compliance With Landscape Ordinance Requirements
LANDSCAPE BOND:

In regard to compliance with Landscape Ordinance requirements, based on discussion with those professionally qualified to understand both the value of proper landscaping for any development and the challenge of achieving compliance, the two-step LANDSCAPE BOND makes a lot of sense.

1. PERFORMANCE BOND: It essentially allows developers six months after issuance of the C O to install landscaping, to offset the disadvantage of completing projects in late spring or summer months, to assure reasonable growth conditions and released upon satisfactory compliance, as determined by a landscape architect familiar with the design intent.
2. MAINTENANCE BOND: Applicable during the two-year period following the project's completion and including a reasonable time period for proper landscape care to assure healthy plant material following that period. The Maintenance Bond is released after two years, contingent on satisfactory inspection by qualified professional, a landscape architect licensed in Tennessee and familiar with the design intent.
May 21, 2018
Opposition To Adu And Restaurants In Office Zone
I live in a historic neighborhood in Fountain City currently zoned R-1 where permissive rezoning rules have allowed commercial encroachment. significantly increased traffic, and detrimentally altered the way of life on my street. Therefore, I am voicing opposition to allowing accessory dwelling units in R-1, even under the special use permission. I am also voicing opposition to permitting restaurants in office zones as outlined below.

1. Accessory Dwelling Units- After attending the recent Recode Knoxville open house, I learned that Accessory Dwelling Units (ADU) are proposed for current zones R-1 (new zone RN-1). At a minimum, new ADUs should be prohibited from RN-1 as they have a extremely high likelihood of altering the character and driveability of single-family neighborhoods. As has been shown in the past, garage apartments, mother-in law suites and similar ADUs become permanent structures once the capital expenditure to build or renovate accessory space has been made. This means a permanent increase to housing density and a permanent increase to traffic and possibly to on-street parking. A temporary structure for special needs cases would be acceptable, but not rezoning to permit ADUs. Tennessee law currently allows for TEMPORARY housing to be constructed on any qualifying residentially zoned land to care for an elderly/needy relative. Once the need no longer exists, the law requires such special needs structures to be decommissioned.

2. Our neighborhood supported office zone O-1 for some structures to be used as a buffer and transition between more heavily used commercial and our residential neighborhood. There are more than sufficient suitable locations for restaurants in Knox County without jeopardizing residential areas by allowing restaurants in an office zone. Restaurants have significantly higher traffic throughput and extended business hours in evenings and weekends than offices and would, therefore, not provide an adequate buffer to residential neighborhoods. Please do NOT allow restaurants in the office zone. This would not provide an improvement to the zoning in Knoxville. Quite the opposite!
View More