The first of those meetings was a Recode Knoxville Stakeholder Advisory Committee meeting, held in the City County Building, where Mayor Rogero, City Council and the Stakeholder Committee reviewed the proposed changes together. Thirty-five community members joined for the presentation (included below) and a question and answer session.
Later in the week, a presentation was given to the Knoxville Area Association of Realtors and the Chamber of Commerce, and a community meeting was held (view the recording below).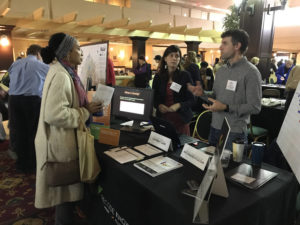 Staff also participated in the 2018 City of Knoxville Neighborhood Conference, where there was an information booth and a workshop that attendees could sit in on to learn more. These opportunities allowed nearly 175 community members to review a summary of the draft, ask questions and provide comments.
Documents
CTV Broadcast
The initial draft is more transparent, predictable and consistent than the current ordinance. This has been achieved through several updates to the document's organization, processes, and procedures. Examples of this include:
Better organization through illustrations, matrices, definitions, standardized rules of measurement, zoning uses tables, and more;
Alignment and integration of the newly adopted parking regulations and form based code;
Adoption of a more generic use approach;
Use of standards to regulate impacts;
Uses tailored to districts;
Inclusion of temporary uses and permits;
Reorganization of districts;
Inclusion of permitted encroachments table;
Inclusion of landscape requirements chapter;
Replacement of use on review with special uses;
Creation of a new planned development process; and
Modification of all nonconforming situations.
MPC and Camiros are encouraging community members to review the first draft and submit comments. Several groups and organizations are hosting meetings throughout the month of April, and all are open to the public. A series of open houses, hosted by MPC and led by the Camiros consultant team, is scheduled for the week of May 14. MPC and City staff encourage those interested in the project to attend these meetings to learn more and to submit comments by May 21. The feedback received will help shape the second draft, which is expected this summer.
Recent Comments
September 20, 2018
Recode Second Draft Comments
Section 5.4: Design Standards
- Issue: What does 'substantial repair or rehabilitation' mean? "The following design standards apply tosubstantial repair or rehabilitation meant to remedy damage or deterioration of exterior façade"
- Remedy: more clearly define when design standards would come into play; define 'substantial repair or rehabilitation'

Table 5-2: Commercial Site Design
- Issue: Surface parking location requirements are incompatible with current and reuse/redevelopment of many lots in O, C-N, C-G-2, C-G-3 districts (ex: L-shaped commercial strips, businesses that need loading/truck facilities on the rear of the lot). "Surface parking may not be located between the principal building and the front lot line. Parking must be located to the side or rear of the principal building [in O, C-n, C-G-2, C-G-3 districts]."
- Remedy: Remove this as a requirement and instead use it as a possible incentive in Section 5.3.B and other incentive sections. Staff has recommended incorporating current parking requirements without change; this would be a significant change.

8.4 Hillside Protection Overlay Zoning District
- In order to facilitate reuse and redevelopment of small-scale and larger-scale commercial/industrial areas, apply this overlay only to residential zones.

Table 9-1: Use Matrix
- Issue: "Bar" and "Restaurant" were combined into "Eating and Drinking Establishment" and "Restaurant" was removed as "P" in O and C-N districts. This will transform numerous restaurants from "P" to "S" in C-N (ex: Plaid Apron in C-N, Sequoyah Hills neighborhood) and create nonconformities in O district. It could create more pushback when an "Eating and Drinking Establishment" is requesting "S" in C-N in the future.
- Remedy: Remove "Eating and Drinking Establishment" and reestablish "Bar" and "Restaurant" as separate uses.

- Issue: "Medical/Dental Office" was downzoned from "P" to "S" in C-N. These are currently "P" in C-N.
- Remedy: Return to "P" use in C-N.

Parking and Landscaping
- Please keep with staff recommendation that existing parking and landscaping requirements be incorporated into Recode, and that the landscaping bond be removed.

15.D.3.h Planned Development
- Issue: More clearly define "affordable housing" set-asides.
- Remedy: Provide a threshold of rental or purchase price based on existing market and population data or government guidelines. Do not require "affordable housing" to be government-approved/subsidized.

16.2.D Nonconforming Use
- Issue: "Discontinuation or Abandonment" as it currently reads is unclear and does not reflect general market conditions for reuse and redevelopment of real property.
- Remedy: Provide a definition for "Discontinuation or Abandonment", increase "six months" period to at least 18 months to reflect commercial property general market conditions, and add in a language that being "actively marketed for lease or sale" is not considered "Discontinuation or Abandonment".

Thanks for considering my comments. This is not an easy task.
Staff Reply:
September 20, 2018
Recode Project
I am concerned that zoning districts which allow for affordable housing have deceased in the new rezoning plan. I especially would like to see more areas which allow for RN3 and RN4 zoning, two new categories created during the ReCode process but not used in the proposed map. This type of housing avoids problems associated with huge housing profects. The RN3 and RN4 units foster more personal and close knit communities and allow for residents to be a part of regular neighborhoods. These units are also a good size which provide smaller developer companies opportunities to build them. Thank you.
Staff Reply:
September 20, 2018
Put The Orange Back! Add The Tan!
We need MORE affordable housing in Knoxville, particularly RN3 and RN4! We have over 20,000 of our families paying more than 50% of their income for housing costs. I'm hopeful that as our community leaders, you recognize we clearly have a crisis in affordable housing in our community. Instead of being a responsive, conscience-centric approach, the new proposed map from the ReCode process appears to actually reduce the potential to build affordable housing in Knoxville!! Please, please redesign the map! Let's Recode in a manner that honors our community and seeks to serve all of our citizens. RN3 and RN4 would encourage more affordable housing in already-existing neighborhoods, which would be a GOOD approach. Thank you for including the Orange along the more accessible corridors, however we still need more of the higher-density zoning, too. Knoxville is a wonderful place to live, let's make that true for all of our families.
Staff Reply:
September 4, 2018
Multi-family Housing Increase Please
Please increase opportunities to allow multi-family housing to be developed in Knoxville.
Staff Reply:
June 5, 2018
Recode
Thanks for speaking with me at the Saturday Recode community meeting. As per your request I am sending you an email regarding my questions and points. I indicated to you I had read the entire draft ordinance and generally liked it, but did not think any one zone encompassed the full amount of current uses and desirable future uses in some of the current central city sector plan zones, specifically I am talking about some of the MU-SD districts that currently have a mix of what would be considered RN-4 to RN-6, O Office, and C-N Neighborhood Commercial uses under the new ordinance. I indicated I thought it was desirable for the city and the property owners for this to continue. I like the idea of fostering small neighborhood markets or cafés which makes the neighborhood nicer and gives the residents the ability to walk to some small scale basic retail services. I suggested a simple solution would be to make some of those MU-SD districts RN-6/C-N neighborhood commercial, for example, as it would cover the existing uses and control future growth according to the design standards in the new ordinance. You would not need to change anything regarding the proposed table 9-1: USE MATRIX as in my theoretical district you would look down the RN-6 column and C-N column and those are the permissible uses, of course you would need to meet all of the design requirements for the use you wanted. I chose C-N because according to the Matrix everything allowed in O Office is allowed in C-N so those current and future uses are covered. As I have consistently stated I like the idea of redoing the zoning ordinance code to make it more simple and clear and don't mind design standards but do not support decreasing my current property uses or future uses that I am allowed under the current zoning ordinance, I don't think that is good for me or the City as it looks to the future.

We also discussed Table 4-1 and that RN-4 had a minimum lot width of 50 feet but RN-5 and RN-6 had a minimum lot width of 60 feet. Perhaps it is a typo, but in any event, I stated they should all be 50 feet. Additionally, we discussed section 4.3 that requires multi family housing in RN-4 zones to be on only corner lots. Knoxville already has successful examples of where multi family dwellings are in the middle of a block amongst single and 2 family dwellings and are less obtrusive overall for the block then a corner location. Knoxville will benefit from fostering a heterogeneous mix of dwelling units ranging from single family to multi family within these MU-SD districts, which I recognize each has different characteristics and will require different variations. These varied housing types will attract and provide housing to a wide socio-economic range of people, plus the density will help support C-N businesses. Having traveled to other cities these types of neighborhoods are dynamic, very attractive, and walkable. Having design standards, as the new ordinance does, will make these varied uses fit together in an aesthetically pleasing manner.

Thank you and the planning group for your consideration of my prospective. I look forward to any feedback you and the group can give me.
Staff Reply:
View More