Knoxville's zoning ordinance hasn't undergone a thorough review in half a century.
Recode Knoxville is our chance to adopt modern standards that will support continued development and redevelopment of the City in a manner that uses resources efficiently and builds a strong, sustainable, walkable community.
Keep reading about the project
Invest
In aging industrial sites and commercial areas
Better, more flexible standards that help them thrive
Protect
Neighborhoods and preserve our history
Support the places that make Knoxville our home
Connect
Our corridors, neighborhoods, and natural amenities
Better connect our community to the river and natural beauty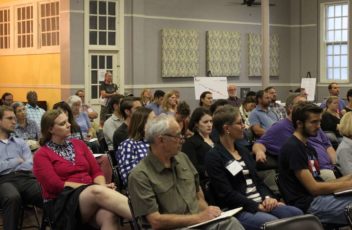 Another round of meetings for Recode Knoxville were held on September 19 and 20. These focused on the recently released draft Technical Report.
The Technical Report is an in depth review of the City of Knoxville's current zoning regulations and serves as guideposts for upcoming drafts of the City's new zoning code.
Upcoming Events
Recode Knoxville sponsored public meetings and events
November 15, 2017

November 15, 2017

@

10:00 am

-

11:30 am

Small Assembly Room, City County Building, 400 West Main Street West, Knoxville, TN 37902
See more details